Maybe there is a part of your Summer Reading program which needs its own page. Maybe you have a special event or program or want to have a place where you can put phoos or something else. It's not too complicated to add a whole new page to your site. Here is how.
From your Admin dashboard go to
http://YOURSITE.readingbydesign.org/node/add/page
Admin > Content > Add Content> Basic Page
Make sure you type something in the Title field. Enter text and/or images in the Body field.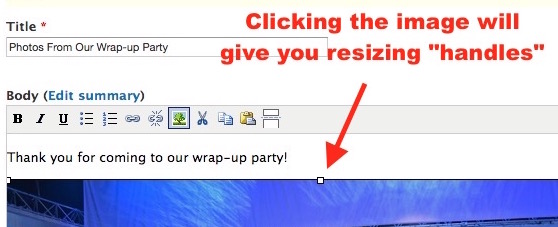 When you scroll to the bottom there are a few optional settings you may want to adjust:
1. Menu settings - clicking this box will add the page to the main menus.
2. URL/path settings- this can give you an easy web address for your page instead of the default setting which will just use the title of your page. So in our example the page URL would be
http://site45.readingbydesign.org/content/photos-our-wrap-party
and we could adjust it to just be
http://site45.readingbydesign.org/content/photos
3. Published/unpublished - if you want to create a page for others to review, or to save for later, you can save a page as a draft by unchecking the "published" box here.