Activities and Secret Codes provide opportunities for readers to earn points and badges for non-reading activities, such as attending story-time, participating in a library program, and more.  Activities can be "claimed" by all readers without any confirmation, "on the honor system."  Secret Codes must be given to readers before they can "redeemed" for points.
Need inspiration?  Our Activities and Secret Codes Idea page has tons of ideas to get you started!
---
Managing Activities
Choose Setup Menu > Activities to view existing activities.  In the example below, you can see a sample activity called "Say hi to a librarian!"  Readers who complete this activity are awarded the "IREAD Teen 10" Digital Badge and 50 points.  For any activity, you can choose to award points, a badge, both, or neither.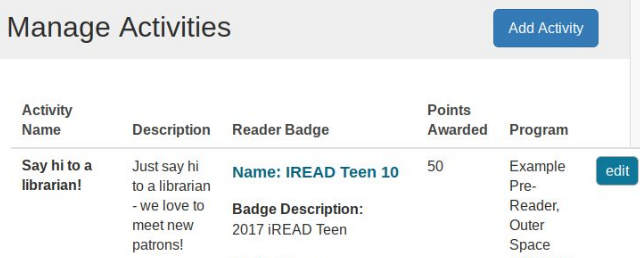 Remember, every activity in a program will be available to all readers in that program as shown in the image below.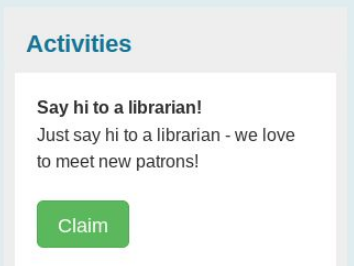 Adding a New Activity
To add a new Activity, click the Add Activity button on the Manage Activities screen.  On the Add Activity form, enter the Activity Name and Description, which will be visible to readers.  In the Points Awarded field, enter the number of points (if any), that readers should earn for completing this Activity.  You can also use the Reader Badge field to award a badge to readers who complete this Activity.  Finally, select which Program(s) should display this Activity - you can use the same Activity in multiple programs.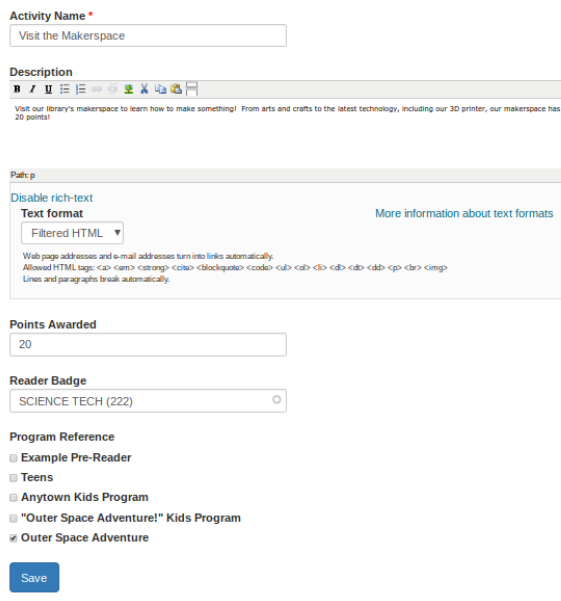 ---
Managing Secret Codes
Choose Setup Menu > Secret Codes to view existing Secret Codes.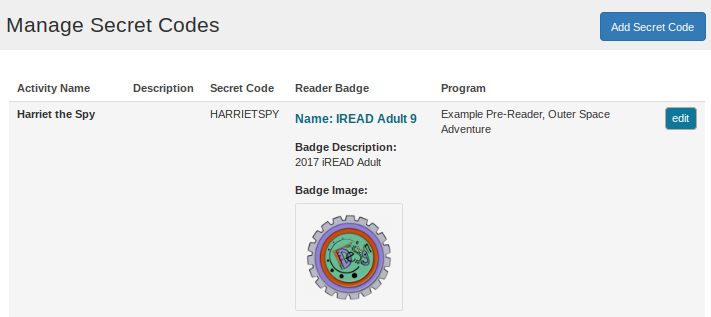 Readers will enter the Secret Code using the Secret Code widget on their Reader Dashboard, as seen here:

Adding a Secret Code
To add a new Secret Code, click the Add Secret Code button on the Manage Secret Codes screen.  Enter the number of points, if any, to be awarded for readers who claim the Secret Code.  You can also select a badge to be awarded.  In the Program Reference section, select which program(s) should contain this Secret Code - you can use the same code in multiple programs.  Finally, enter the Secret Code itself.  As the help-text notes, you should make a code that is easy to read with no ambiguous characters - for example, a lower-case "L" can look like the number "1" depending on how you type/write the code.  Instead, use all-capitals and clearly-legible words (Secret Codes are NOT case-sensitive). 
Click the Save button to save the code.